Bolognaise vegan sauce
Sauces
Published on 22/03/2017
All the pleasure of the Bolognese sauce, but without the meat !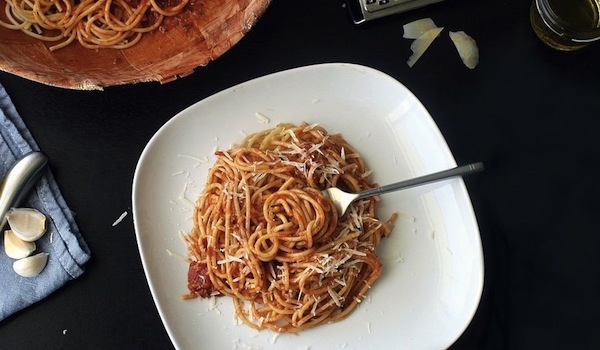 Ingredients
1 head of cauliflower in bouquets
2 carrots
200g of mushrooms
1 yellow onion
3 peeled garlic cloves
120g of cashew nuts
1/2 to 3/4 of passata bottle
15g of dried tomatoes
1 tablespoon of yeast
1 teaspoon of salt
1 teaspoon fresh or dried oregano

1

teaspoon fresh or dried basil
1 teaspoon agave syrup, according to your taste
Preparation
Preparation time : 20 min.
Cooking time : 25 min.
6 persons
Recipe
In the bowl of a blender, reduce the cauliflower, carrots, mushrooms, onion and garlic in fine semolina.
Place the semolina vegetables in a large skillet and heat over medium heat.
Sweat and reduce until almost cooked.
Mix the cashews and add them to the preparation with salt, herbs and yeast. Mix well.
Mix the dried tomatoes with the passata and add to the vegetables. Taste to adjust the seasonings and add a little agave syrup if the sauce is too acidic.
Simmer and then iron on a small fire for 10-15 minutes, stirring regularly.
Serve on pasta or vegetable spaghetti !
For a more gourmet alternative, replace cauliflower with smoked tofu, whose taste is more like that of meat.
The products used in this recipe