Frosch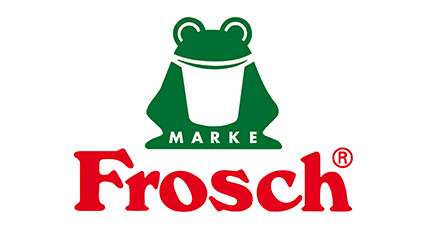 Frosch, the innovative brand of cleanliness! Going against the grain of environmentally harmful cleaners is its motto. Cleaning products are among the most harmful to nature. Today, with Frosch, that's history!
At Frosh, ecology has its full meaning on several levels. First, the products have been developed using formulas from plant-based elements. Second, it should be noted that the recycling of packaging is also part of Frosch's practices.  Besides, the brand use fully biodegradable inputs.
Moreover, respect for the environment has a pragmatic dimension with Frosh. Know that Frosch strictly selects raw materials only from those that preserve nature. To further protect the natural environment, the factory filters water before discharging it. Moreover, Frosch doesn't carry out any test on animals during the production process.
It should be noted that all of Frosch's processes are certified by recognized organizations. For instance, ISO certifications attest to the quality of the product, Ecolabel which certifies environmental commitments, and EMAS certification which validates the company's environmental actions and accomplishments prove Frosh's ecological approaches.
In short, for your all-purpose cleaner, your toilet cleaner, your dishwashing liquid, your washing liquid, choose Frosh! You'll have an effective cleaner that preserves the environment at the same time!